This recipe seems appropriate now that spring weather is well and truly here ! Colourful, fresh and healthy. I love just putting in what ever vegetables and beans I have on hand. But I always have to have some guac and salsa to dip it into. Cashew cheese is also a delicious addition, and a glass of kombucha. #summeriscoming
Enjoy these in the sun (with a hat on) this weekend and you'll be one happy chappy.
These nachos are vegan but can be changed to whatever suits you ! I just love making the veggie to corn chip ratio even, make sure you get veggies with every bit and these will be so much healthier than your typical restaurant nachos.
These sprouts (omg) , and all my veggies are from Farmer Foster at the Helensvale Farmers Markets. I'm in love. I sprinkle them on everything, such a beautiful fresh texture. So if you're on the Gold Coast make sure to come and get some >> http://www.farmerfoster.com.au
Ingredients
Nachos (serves two – large)
3-4 good handfuls of Organic corn chips (I use Flannerys Organic)
1/2 a Capsicum (Chopped)
1 small Sweet Potato (diced and baked)
3/4 cup of Red kidney beans / Black beans / Cannellini beans (tinned or soaked and cooked)
2 Tomato / 6 cherry tomatoes (sliced)
1 small Zucchini (chopped)
A good shake of Nutritional yeast
6 dobs of Cashew cheese /  6 slices organic mozzarella or cheddar
Corn off the cob (1 cob)
A good handful of Coriander / sprouts of some kind
Guacamole
1 large / 2 small Avocado's
1/4 of a Red onion
1 clove of garlic
Juice of 1 Lime / Lemon
Couple of shakes of Salt and Pepper
Salsa
1/2 a Red onion
2 cloves Garlic
2 Tomato
6 cherry tomatoes
1/2 Capsicum
1 tsp of Chilli flakes
1 -2 Jalepeno
One pinch Salt and Pepper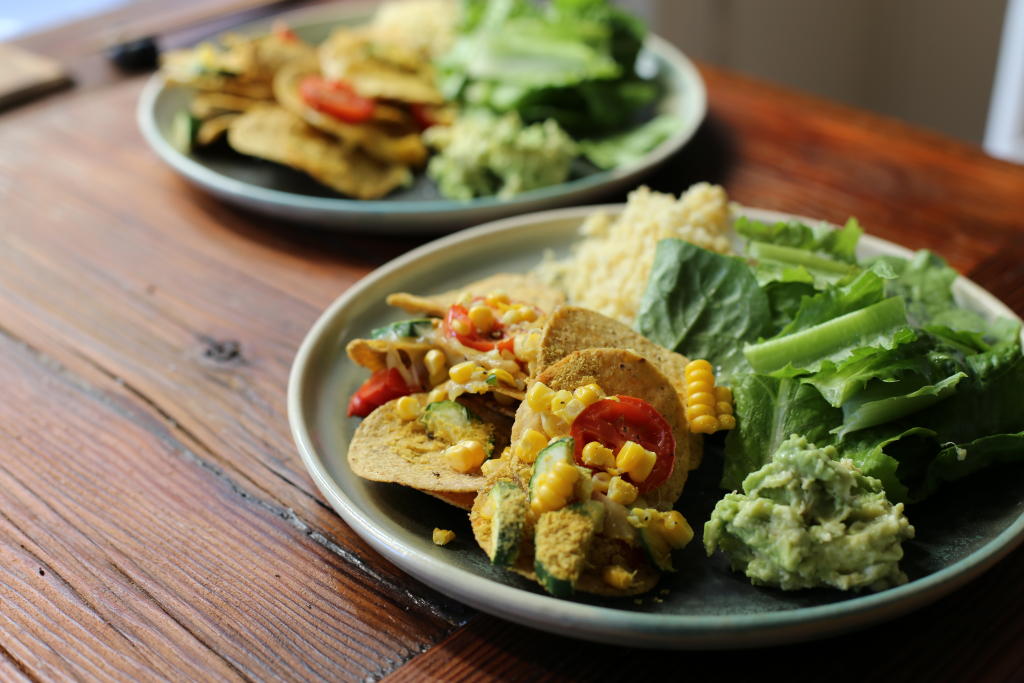 STEP 1
GUACAMOLE
Mix everything together in a bowl and mash with a fork. Store in fridge until ready to use.
STEP 2
SALSA
Mix everything in a small food processor.
Put through a sieve.
Drink the juice !
Store in fridge until ready to serve
STEP 3
NACHOS
Preheat oven to 180 degrees celsius.
Chop up sweet potato into cubes, toss in your choice of oil and roast for 25 minutes.
STEP 4
Spread out corn chips and add in beans, vegetables and cheese.
Bake for 10-15 minutes
Serve with sides, salad and enjoy!
Notes:
Make it FODMAP friendly : remove beans, onion and garlic. Don't use cashew cheese or guac.